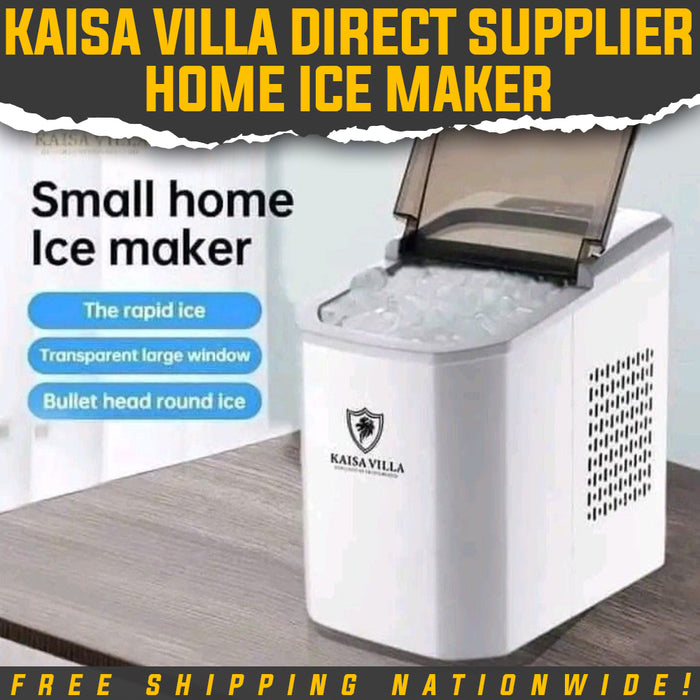 Kaisa Villa Direct Supplier Home Ice Maker
Save

50

%
Save

50

%
Original price
₱9,000.00
-
Original price
₱9,000.00
✅ All items are guaranteed authentic

✅ Brand New Factory Sealed Items

⭕️Delivery: Shipping for you in 24 hours from Metro Manila



Transportation time: 1-3 days in Metro Manila,

It is usually 4-7 days after leaving Manila

Except for remote areas

NOTE:

Very important, please leave it to stand for 24 hours after receiving the goods before turning on the electricity.

Portable Ice Maker – Make Ice in Minutes

Description:

-Brand: Kaisa Villa

-Within 24 hours can create about 15 kilograms of ice.

-With a full ice sensor

-2L water tank

-Can make 9 ice cubes in 6-9 minutes

-Ice bucket capacity 0.6 Gillo Rum

-There is a system to prevent water from running out.

-There is a full ice alert.

-Using steel, copper, and aluminum materials

-More heat dissipation area, better heat removal.

-Ice making speed is faster

-Work with quiet sounds

-Compressor operating Low noise, only 40db, no noise

-Long shaped glass Seeing the ice-making process makes you clearly visible.

-ABS material, creating work delicate, strong, and modern

-Heat vent Protect the device and accelerate the heat dissipation Maintain service life

-Side vent Add beauty and good heat dissipation

-While the water pump

*** Warning ***

If the customer has received the device Must be set aside for at least 24 hours before waiting for the cooling solution to re-enter in order to be able to use it normally. If customers use it without setting it aside The machine will not be able to produce ice. (If the customer has not set up and used it at all The shop will reject the warranty immediately)

-Electric Current: 0.043 (A)

-Voltage: 0.043 (W)

-While the compiler is working

-Electric current: 3.172 (A)

-Voltage: 392.3 (W)

-Normal ice

-Electric current: 0.733 (A)

-Voltage: 91.16 (W)

-Water solubility

-Electric current: 0.798 (A)

-Voltage: 114.2 (W)

-Product Name: HZB-16A

-Voltage / Frequency: 220-240V / 50Hz

-Ice cube size: 26 * 32mm

-Create ice at once: 9 cubes

-24 hours can produce: 15 kg

-Water filling: Manual filling

-Ice shape: Round like a bullet

-Power: 105W

-Production time: 6-13 minutes

-Ice capacity: 0.6 kg / 60 tablets

-Watering capacity 7KG

-Body size: 222 * 313 * 320mm.